The HMS Victory was a Royal Navy ship that was ordered in 1758 and finally launched in 1765. The ship was a first-rate warship, having 104 guns and designed as a flagship for the admiralty of the day. The ship is perhaps best known for being the flagship of Lord Nelson at the Battle of Trafalgar on the 21st of October 1805. After the battle the ship went on to serve as Keppel's flagship at Ushand, Jervis' flagship at Cape St Vincent, and Howe's flagship at Cape Spartel. By this time the ship had served her time and was relagated to the role of harbour ship.
Not completely finished and having played an important role in British naval history, the ship was moved to a dry dock at Pourtsmouth, England, in 1922 where it was p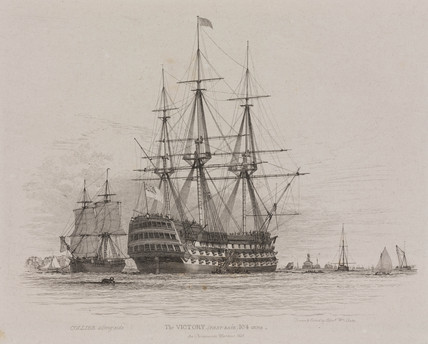 reserved as a museum ship. The ship is still technically in service and has been the flagship of the First Sea Lord since October 2012, making it the oldest naval ship in the world to still be in commission, having been in service for 241 years as of 2019.
HMS Victory was one of 12 ships that were ordered by Pitt the Elder as part of his hole as head of the British government. Victory was one of ten first-rate ships that had been comissioned. The architect that was chosen to design the ship was Sir Thomas Slade who was serving as the Surveyor of the Navy at that time. In total, the ship required around 6,000 trees for construction, alongside 150 workmen who were assigned to construct the frame, 90% of which was made from oak, with elm, pine, and fir used when required.